Turkey Stake
March 6, 2018
Sandhill Crane Call
July 3, 2018
Western Series Sandhill Crane Decoys 6 pack
$480.00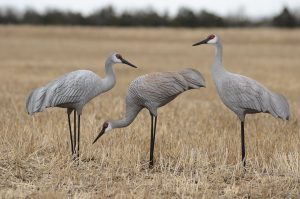 Deception Decoy Company has came up with the most realistic Sandhill Crane Decoy on the market. Introducing our Western Series Sandhill Crane Decoys these decoys by far perform the best out of any crane decoys on the market today. The western series have a smaller profile allowing hunters to pack in more decoys on those long walks. These decoys come with the same stake system as the Original Sandhill Crane Decoys so they sit up slightly higher for more visibility but are smaller in size to prevent bulky shipping. We are proud to present the new Sandhill Crane Decoys called the Western Series.
SOLD AS 6 packs
This pack includes two semi-actives, two semi-transition feeders, and two feeders. Each pack comes with 6 motion stakes and have bungees attached and ready to hunt.
Check us out on Facebook.
| | |
| --- | --- |
| Weight | N/A |
| Dimensions | N/A |
| Western Sandhill Crane 6 pack Standard | Standard, Juvenile |